Structural Rehabilitation Project for the Macdonald-Cartier Bridge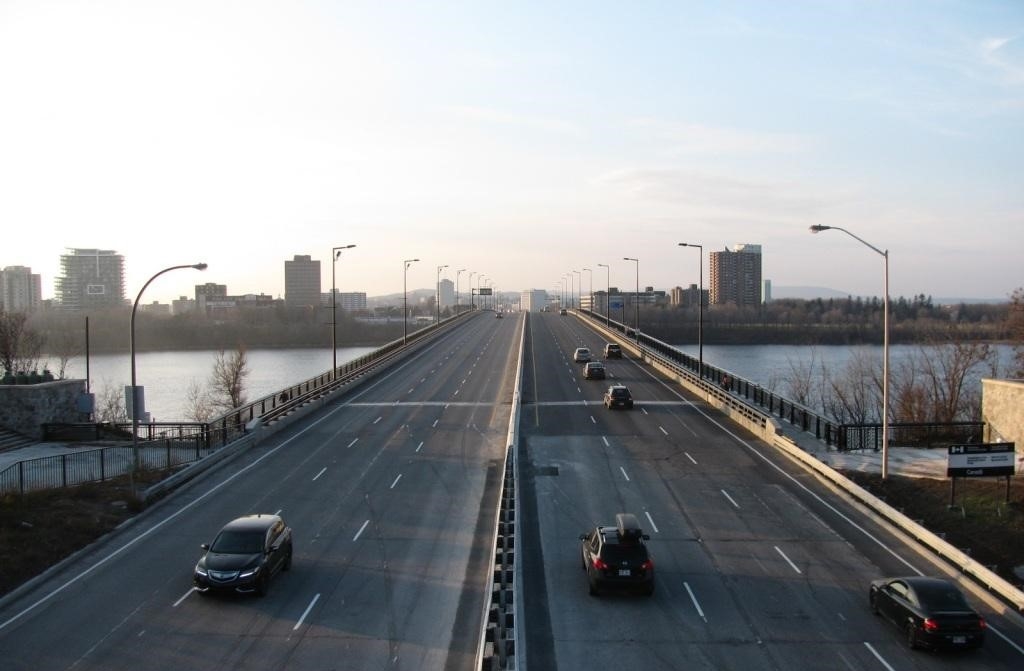 Background
Public Works and Government Services Canada (PWGSC) is responsible for 20 engineering assets across the country, including the Macdonald-Cartier Bridge and is carrying out a five-year major capital work plan to ensure they remain safe. As part of this plan, PWGSC is proceeding with the seismic retrofit of the bridge and the rehabilitation of deteriorated components.
The Macdonald-Cartier Bridge is a major urban transportation link between the cities of Ottawa, Ontario and Gatineau, Quebec. The bridge was built between 1964 and 1966; it spans the Ottawa River connecting King Edward Avenue in Ottawa to Highway 5 in Gatineau. The structure is the principal inter-provincial bridge in the National Capital Region (NCR) for commuters and commercial vehicles with an average annual daily traffic of 70,000 vehicles. The bridge is the most important inter-provincial bridge in the Ottawa-Gatineau area, playing a vital role for both business and tourism in the NCR.
Scope of the activities
The general scope of work for the Macdonald-Cartier Bridge Project is as follows:
Modify the existing structure to accommodate widened roadways and sidewalks to meet current Transportation Association of Canada code requirements;
Replace the exterior railings and sidewalk with new railings, wider multi-use sidewalk for use by pedestrians and cyclists, and roadway lighting;
Widen roadway in both directions;
Install new traffic barriers;
Install new median;
Seismically retrofit the bridge to meet current standards;
Repair piers/abutments/substructure;
Upcoming activities
In the fall of 2011, PWGSC proceeded with a Request for Proposal for an engineering design consultant for the rehabilitation project of the bridge. This process was conducted in a fair, open and transparent manner through the Government Electronic Tendering System (MERX).
On January 27, 2012, the Honourable Rona Ambrose, Minister of Public Works and Government Services and Minister for Status of Women, along with John Baird, local member of Parliament for Ottawa West–Nepean, announced the award of a $1.8-million engineering design contract for the structural rehabilitation of the Macdonald-Cartier Bridge in the National Capital Region to the joint venture firm MMM Group Limited/CIMA+ SENC of Ottawa, Ontario. The contract was competitively awarded and will provide engineering design services as well as preparation of construction drawings and specifications for the structural rehabilitation of the bridge. The design work is expected to be completed in 2013. PWGSC will then solicit bids for the construction work, which is expected to begin before the end of 2013 and be completed within three years.
For further information on the recent announcement on public infrastructure investments, please see Harper Government invests in Canada's economy and jobs.
Feedback and Contacts
If you would like to obtain more information, please contact PWGSC's Real Property Branch.