Minister's message: 2016 to 2017 Departmental Results Report
Document navigation for "Minister's message: 2016 to 2017 Departmental Results Report"
As we celebrate Canada's 150 birthday, Public Services and Procurement Canada (PSPC) can reflect on its own history of service to our country, from constructing the Parliament buildings to opening up vital transportation routes. I am proud to present this 2016 to 2017 Departmental Results Report, which highlights more recent successes in providing key services and programs to federal organizations and Canadians.
Construction of both large ships and small vessels under the National Shipbuilding Strategy made progress. This strategy to renew the Royal Canadian Navy and Canadian Coast Guard fleets is creating thousands of jobs and revitalizing Canada's marine industries. To ensure best results, PSPC introduced measures to better manage large projects, new costing approaches, and improved monitoring of shipyard performance. The department is also informing Canadians of each project's progress.
Our goals to foster innovation, encourage economic growth and support small and medium enterprises are also served by the Build in Canada Innovation Program. Under federal contracts awarded through this program, more than 200 entrepreneurs have moved their innovations from the testing phase to the marketplace.
To make it easier for businesses to sell their products and services to the government, the department took steps to simplify its procurement processes. Work also continues to better align government purchasing with social-economic goals, such as greening government operations and creating opportunities for businesses owned by women and Indigenous peoples.
As the government's chief procurement arm, PSPC is working with the departments of National Defence and Innovation, Science and Economic Development to replace Canada's aging fleet of CF-18 fighter aircraft. In late 2016, we announced that the Government will launch a competition in 2019 for what will be one of the largest procurement projects ever on behalf of the Canadian Armed Forces.
I am proud that, as the federal government's real property manager, PSPC was the first department to ban the use of asbestos in new construction and major renovation projects. Further, the department led the way in developing a national inventory of the buildings in its portfolio that contain asbestos to provide open and transparent information to federal employees.  In addition, we are supporting other government departments in doing the same.
The rehabilitation of the heritage buildings in the parliamentary precinct continues to track on time, on scope and on budget. The West Block, the Government Conference Centre and Phase 1 of the Visitor Welcome Centre will all be ready as planned in fall 2018. Work will then turn to restoring and modernizing the Centre Block, a complex job that involves careful long-term planning as we ensure that Parliament will continue to function and will remain accessible to senators, Members of Parliament and visitors. This project will ensure the building meets the needs of a 21st Parliament.
The Translation Bureau within PSPC has an important mandate in support of Canada's linguistic duality. In early 2017, we announced measures to strengthen the bureau's capacity to carry out this mandate, which I am confident will position it for long-term success.
The government is steadfastly committed to supporting our employees, and we continue to work hard to address ongoing pay issues. Public service pay is extremely complex, and there are no quick or simple solutions, but we are committed to ensuring that every employee is paid what they have earned. We are taking action on several fronts to stabilize the pay system, including hiring additional compensation staff and implementing technical enhancements. Our goal, and our commitment to all employees, is to reach a steady state as quickly as we can. This will require efforts across government, but we will not rest until this situation is fully addressed. As we work through this challenging situation, we are remaining open and transparent with employees by publicly reporting on our progress each month.
Finally, the comprehensive review of Canada Post reaffirmed the government's commitment to openness, transparency and evidence-based decision-making. All of the input is being reviewed and the government will announce the future direction of this important institution later this year.
Thanks to the efforts of a dedicated workforce, PSPC has achieved considerable success in meeting ambitious goals. I appreciate the good work of all and look forward to continued progress on behalf of Canadians.
Carla Qualtrough, PC, MP
Minister of Public Services and Procurement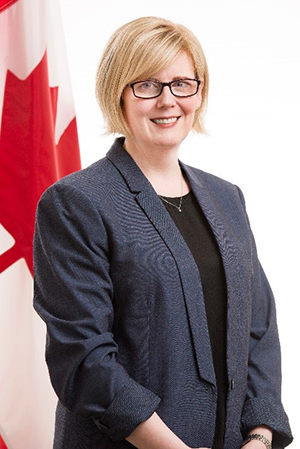 Carla Qualtrough, PC, MP
Minister of Public Services and Procurement
Document navigation for "Minister's message: 2016 to 2017 Departmental Results Report"