Smart buildings initiative
From: Public Services and Procurement Canada
Learn how we save energy by monitoring and controlling the mechanical, heating, cooling and lighting systems in federal buildings through the Smart Buildings Initiative.
On this page
Understanding Smart Buildings
Most buildings have digital systems that control their mechanical and electrical equipment. Smart Buildings is a system that collects raw data from that equipment and analyzes it, as it comes in. The initiative involves implementing this system in federal buildings.
The system uses data to find conditions when buildings use equipment inefficiently. It could mean that the mechanical or electrical systems are wasting energy. If building management finds a problem, they can fix it right away.
Infographic: Smart Buildings Initiative: How it works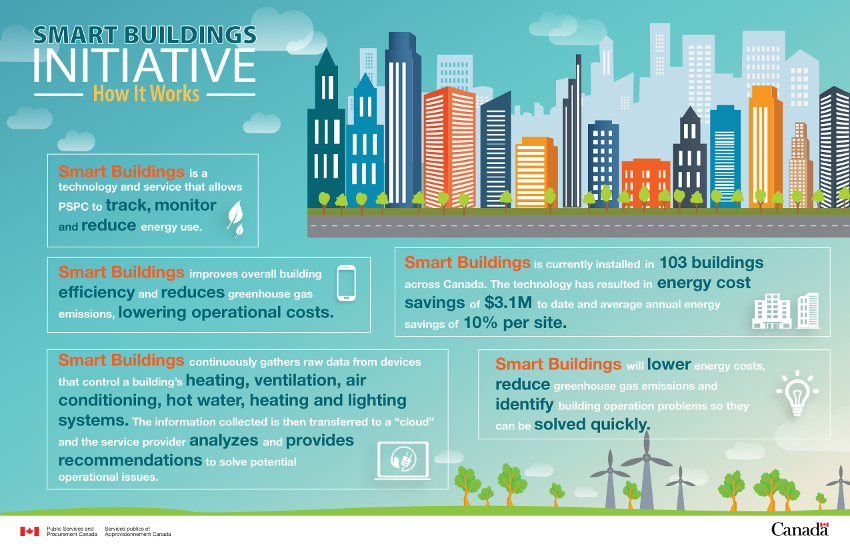 Image description

How the Smart Buildings Initiative works

The title of this infographic is "Smart Buildings Initiative: How it works." In the upper right corner, it depicts a cityscape in which high-rise buildings of different shapes, sizes and colours are represented. In front of these buildings is a road with some trees on the side.

The image has five blocks that each contain a text as well as a pictogram:

Smart Buildings is a technology and service that allows Public Services and Procurement Canada (PSPC) to track, monitor and reduce energy use. The pictogram associated with this block is a tree leaf
Smart Buildings improves overall building efficiency and reduces greenhouse gas emissions, lowering operational costs. The pictogram associated with this block is a smart phone
Smart Buildings continuously gathers raw data from devices that control a building's heating, ventilation, air conditioning, hot water heating and lighting systems. The information collected is then transferred to a "cloud" and the service provider analyzes and provides recommendations to solve potential operational issues. The pictogram associated with that block is a computer screen on which is a connection cable attached to a tree leaf is represented
Smart Buildings is currently installed in 103 buildings across Canada. The technology has resulted in energy cost savings of $3.1M to date and average annual energy savings of 10% per site.
Smart Buildings will lower energy costs, reduce greenhouse gas emissions and identify building operation problems so they can be solved quickly. The pictogram associated with that block is an illuminated light bulb

In the lower right corner, there is a wind farm incorporated in a landscape that contains many trees.
Mining data for hidden information
Every few minutes, the Smart Buildings system collects thousands of pieces of data on information such as:
temperature in various rooms
pressure in various rooms
measurements of how much energy the equipment is using
The system uses the data from various building systems to establish links that help identify potential issues.
For example, the analysis may find that in a building's ventilation system, one fan is using much more energy than the others. This isn't something a maintenance worker would notice just by looking at the fan. The difference in energy use could mean that something is blocking the fan's airflow or that a filter needs to be changed.
The system could also discover that a room is being both heated and cooled at the same time. The system would immediately alert building management about the problem and they could fix it.
Advantages of the system
The Smart Buildings system allows the Government of Canada to:
lower energy costs
reduce greenhouse gas emissions
identify and diagnose problems early so they can be solved right away at a lower cost
establish baseline data so building managers know if energy efficiency is improving
In addition, information collected from the system is available for building occupants and operators to use. This information can be displayed in public areas and can cultivate an energy-conscious culture among people in the building.
Through the initiative, we are improving how we manage the energy performance of federal buildings. This will result in lower greenhouse gas emissions and lower energy costs.
Latest news about this initiative
Related links
More information