LaSalle Causeway
From: Public Services and Procurement Canada
Learn about the LaSalle Causeway, which links downtown Kingston to Pittsburgh Township near the mouth of the Cataraqui River.
About the causeway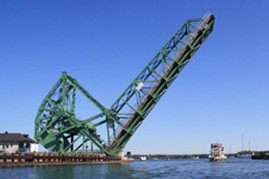 The LaSalle Causeway is considered part of Highway 2. It connects the city of Kingston to its eastern suburbs.
The causeway consists of 5 interconnecting engineered structures:
3 bridges:  

West Bridge
East Bridge  
Bascule Bridge

2 wharfs:  
The West Bridge and the East Bridge are 2 fixed bridges located at each end of the causeway, with the Bascule Bridge spanning the central channel.
The West Wharf contains the site office and workshop for the bridge and the operator control station for the Bascule Bridge.   
The LaSalle Causeway links downtown Kingston to Pittsburgh Township near the mouth of the Cataraqui River.
The Cataraqui River is the southern entrance to the Rideau Canal, a designated UNESCO World Heritage Site. The LaSalle Causeway provides marine access to the canal and the inner harbour of Kingston.
Key milestones
The causeway has undergone various structural changes over the years:
1917:

the causeway was opened
the 1829 "Penny Bridge," a wooden toll bridge with a swing section to allow passage of marine vessels, was replaced by the Bascule Bridge, a single-leaf Strauss heel trunnion bascule bridge designed by the Strauss Bascule Bridge Co. of Chicago
the original East Bridge and West Bridge were single-span through truss structures


1969: the East Bridge was replaced with a 2-span prestressed concrete voided slab beam bridge that was designed by C.C. Parker & Associates Ltd.
1994: the West Bridge was replaced with a 2-span prestressed concrete box beam girder bridge
2010: the steel structure and coating of the Bascule Bridge underwent extensive rehabilitation
2020: mechanical systems were repaired to address the systems' deficiencies that impacted operations
2021: the structural steel was repaired to address fatigue issues in the structural truss
2022: concrete repairs were completed to address deficiencies on the road and critical structural items for the health and safety of the public
Operations of the bridge
The Bascule Bridge operates during the boating season from May to November. It lifts on the hour between 6 am and 10 pm for pleasure craft according to the schedule below.
Weekdays:
mornings: 6 am, 7 am, 9 am, 10 am and 11 am
afternoons: 1 pm, 2 pm and 3 pm
evenings: 6 pm, 7 pm, 8 pm, 9 pm and 10 pm
Weekends:
6 am to 10 pm every hour on the hour
Traffic
Approximately 23,000 vehicles cross the causeway daily. To relieve congestion, lifting for marine traffic is restricted during rush hours. With its urban setting, the causeway also carries many cyclists and pedestrians.
Information for motorists and other traffic
If you have questions about current and upcoming closures or lane reductions on the LaSalle Causeway, consult our media advisories.