Alexandra Bridge: Construction updates and lane closures
Follow
:
Twitter
Stay up to date on lane closures before you travel. Learn more about the projects to repair this important bridge that connects Ontario and Quebec.
About the bridge
The Alexandra Bridge, also known as the Interprovincial Bridge, connects Sussex Drive in Ottawa and Des Allumettières Boulevard in Gatineau. It provides a link between the tourist attractions of the Byward Market and the Canadian Museum of History.
Approximately 22,000 vehicles cross the Alexandra Bridge per day. This amounts to 13% of the vehicle traffic on the interprovincial bridges in the National Capital Region. The bridge is also used by about 40% of all pedestrians and cyclists crossing the river, the highest use of all the interprovincial bridges.
The Canadian Society for Civil Engineering designated the Alexandra Bridge as a National Historic Civil Engineering Site. The bridge is owned by the Government of Canada and maintained by Public Services and Procurement Canada (PSPC).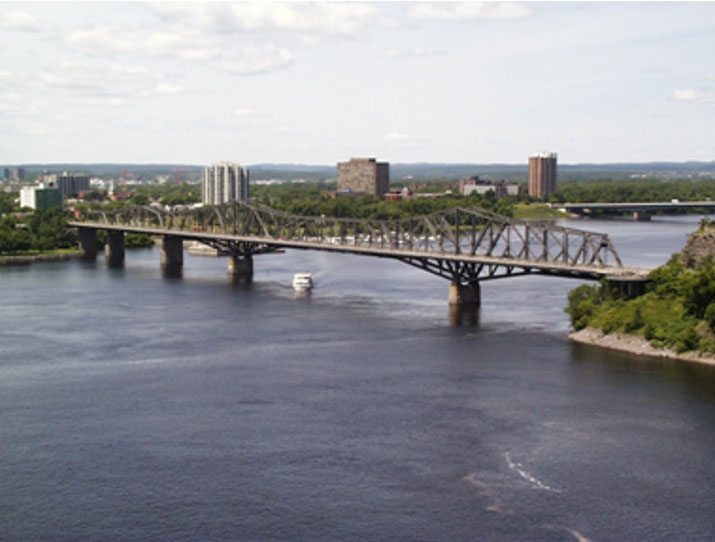 Current project
The bridge has six piers. Pier one is at the Ontario end of the bridge. There is a project underway to repair steel components in the areas surrounding piers two and three. The work is taking place below the concrete roadway, underneath the Ottawa-bound lane.
On August 1, 2016, PSPC awarded Stellaire Construction Inc. a $4.92-million contract to carry out the work.
The work is expected to be completed by the end of May 2017. This work supplements previous rehabilitation work completed on the Alexandra Bridge in 2009 to 2010 and in 2014. The previous work extended the service life of the bridge and included structural improvements, while preserving many of the bridge's original features and its heritage character.
Lane closures
Only one lane will be open to vehicular traffic until the end of May 2017.
The bridge will be open to Ottawa-bound vehicular traffic for most of the time, except:
from Monday to Friday, between 2 pm and 7 pm, when it will be used for Gatineau-bound vehicular traffic
PSPC does not take lane closures lightly. This project is necessary to rehabilitate sections of the support structure to ensure the safety of the bridge.
The lane closures are based on traffic studies over the last six years. Studies have shown that traffic is heavier from Gatineau to Ottawa in the morning, and from Ottawa to Gatineau in the afternoon. During morning and afternoon rush hour, the other interprovincial bridges have the ability to manage the extra traffic.
Commuters travelling to Gatineau in the morning, and to Ottawa in the afternoon, should find an alternative route on other nearby interprovincial bridges.
Additional complete closures of the bridge will take place overnight or on weekends. PSPC will advise motorists of these closures through public notices posted on the web page entitled Ottawa-Gatineau area federal bridges—Lane closures, which includes construction updates.
Related links
More information
Date modified: