Alexandra Bridge: Construction updates and lane closures
Follow
:
Twitter
Learn more about the maintenance and replacement projects for this important bridge that connects Ontario and Quebec.
About the bridge
The Alexandra Bridge, also known as the Interprovincial Bridge, connects Sussex Drive in Ottawa and Des Allumettières Boulevard in Gatineau. It provides a link between the tourist attractions of the Byward Market and the Canadian Museum of History.
Under normal circumstances, approximately 18,000 vehicles cross the Alexandra Bridge per day. This amounts to 9% of the vehicular traffic on the interprovincial bridges in the National Capital Region. The bridge is also used by about 34% of all pedestrians and cyclists crossing the river daily, the second highest use of all the interprovincial bridges.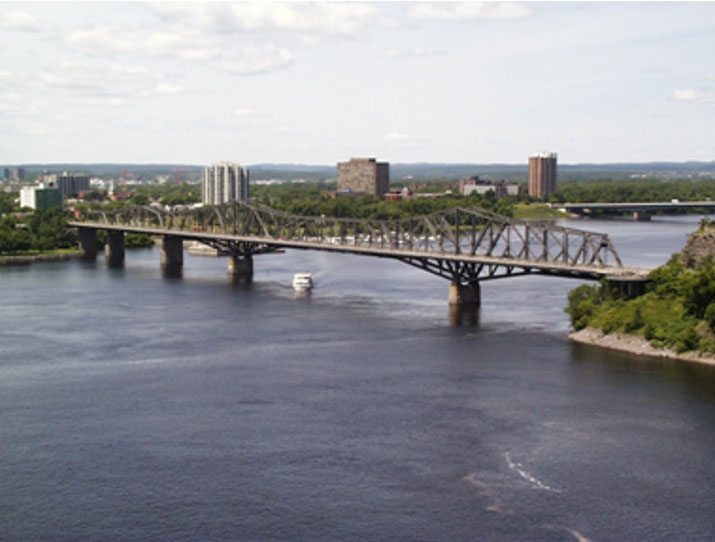 Due to the ongoing COVID-19 pandemic, a reduction of approximately 35% in traffic has been observed across all interprovincial bridges compared to 2019.
The Canadian Society for Civil Engineering designated the Alexandra Bridge as a National Historic Civil Engineering Site. The bridge is owned by the Government of Canada and maintained by Public Services and Procurement Canada (PSPC).
Current Alexandra Bridge projects
The Alexandra Bridge is over 120 years old and is nearing the end of its lifecycle. Over the last few years, the state of the bridge has continued to deteriorate which has and will continue to result in more frequent closures to perform the necessary rehabilitation and repair work to keep serving users.
Budget 2019 provided funding for the replacement of the Alexandra Bridge and the rehabilitation and ongoing maintenance of the bridge. While the Alexandra Bridge replacement project is currently in planning and consulting stages, PSPC will be conducting construction and repair work in the upcoming months to maintain the Alexandra Bridge.
PSPC conducts regular inspections to ensure the bridge is safe for users. A structural steel replacement project, a boardwalk lane replacement and an articulation joint rehabilitation project are currently underway to ensure that the Alexandra Bridge is maintained in safe condition.
Structural steel replacement project
PSPC is capitalizing on the reduced traffic (due to the pandemic) in the core of the National Capital Region. During this time, we continue to work on the structural steel replacement on the Alexandra Bridge.
The bridge will be closed to vehicular traffic from January 2 to June 14, 2021. During this period, the boardwalk will remain accessible to pedestrians and cyclists. As of June 2021, the remainder of the work will continue from barges, which will allow for the reopening of the bridge. Any required closures after June 14, 2021, will take place during evenings or weekends.
Related links
More information
Date modified: