Canada Post Review Task Force
The task force was established on May 5, 2016, to gather information on Canada Post services and identify options for the delivery of quality and sustainable services for Canadians. The task force's discussion paper provided a starting point for consultations with Canadians conducted by the House of Commons Standing Committee on Government Operations and Estimates.
Task force timelines
May to September 2016
From early May to the end of July, the task force gathered Canadians' views and conducted research by engaging with various stakeholders to get information, opinions and formal detailed submissions. The task force analyzed the views of Canadians and the information gathered to develop the discussion paper. The task force presented its paper on September 12, 2016, concluding phase 1 of the review. The discussion paper was provided to the House of Commons Standing Committee on Government Operations and Estimates to begin Phase 2.
Member biographies
Task force members were selected based on a range of factors, including their specific experience, expertise and skill sets. They come from various geographic locations across the country, and bring unique perspectives to the work they are conducting.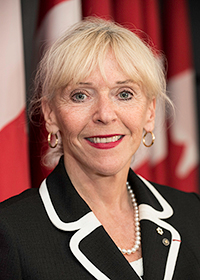 Françoise Bertrand, task force Chair
Ms. Bertrand is a distinguished business leader with over 30 years of experience in private and public sector organizations. She has held senior management positions at the Université du Québec, Télé-Québec and major consulting firms.
A recipient of the Order of Canada, Ms. Bertrand was the first woman to chair the Canadian Radio-television and Telecommunications Commission (1996 to 2001) and the first woman chief executive officer (CEO) of Télé-Québec. She made notable contributions in both of these roles.
Ms. Bertrand most recently served as the president and CEO of the Fédération des chambres de commerce du Québec, an organization that includes 150 chambers of commerce, representing 60,000 businesses operating in all sectors of the Quebec economy. She is a member of several boards, including the Commission de la santé et de la sécurité du travail, Redevances Aurifères Osisko Ltée, Desjardins Securities and Concordia University. For eleven years, she served on the board of Quebecor and later as its chair from 2011 to 2014.
Ms. Bertrand holds a bachelor's degree in sociology from the Université de Montreal and a master's degree in environmental studies from York University in Toronto. She is also a graduate of the Rotman School of Management Directors' Education Program. She resides in Montréal, Quebec.
Krystyna T. Hoeg, task force member
Ms. Hoeg is a corporate director and the former President and Chief Executive Officer of Corby Distilleries Limited. She has held senior leadership roles in various sectors, including health care, entertainment, manufacturing and resource development.
Ms. Hoeg currently serves on the board of directors of several Canadian companies and organizations, including New Flyer Industries and Imperial Oil. She is also Chair of the Toronto East General Hospital.
Ms. Hoeg is a chartered accountant and holds a bachelor of commerce and master of science from the University of Windsor and a bachelor of science from McMaster University. She holds both a chartered professional accountant and a chartered accountant designation and currently resides in Toronto, Ontario.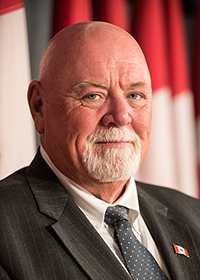 Jim Hopson, task force member
Following a distinguished career as an educator and principal, Mr. Hopson retired as Director of Education for the Qu'Appelle Valley School Division at the end of 2004. Mr. Hopson was raised in North Annex, a small town on the outskirts of Regina. Before his retirement, in addition to being an educator, he was a professional football player. Mr. Hopson began his professional football career in 1973, joining the Saskatchewan Roughrider Football Club.
In 2005, Mr. Hopson became the president and chief executive officer for the Saskatchewan Roughriders. He served in this role until retiring in 2015. Under his guidance, the Roughriders made four Grey Cup appearances and captured both the 2007 and 2013 Grey Cups.
Today, Mr. Hopson is a popular keynote speaker for both small and large groups in a variety of sectors, including small communities, presenting on topics such as leadership, team building, managing change and building excellence. Mr. Hopson is also a board member of SaskPower.
Mr. Hopson graduated from the University of Regina with a degree in education and a master's degree from the University of Oregon.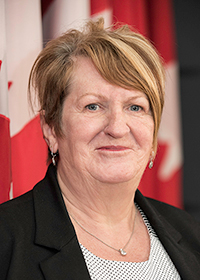 Marena McLaughlin, task force member
During her impressive 31 year career in the federal public service, Ms. McLaughlin has held increasingly senior positions, including Deputy Commissioner of the Atlantic Region for Correctional Service Canada.
More recently, Ms. McLaughlin has provided consulting services to various organizations. She performed organizational reviews for Correctional Service Canada, managed federal/provincial cooperative ventures and led a change management initiative for the Government of Canada Pension Centre.
Ms. McLaughlin resides in Dieppe, New Brunswick.
Task force terms of reference
1. Mandate
The Minister of Public Services and Procurement has established this Task Force to undertake an independent review of Canada Post Corporation (CPC) with the objective of ensuring that CPC provides quality service to Canadians at a reasonable price.
The mandate of the task force is to deliver a discussion paper to the Minister. The objective of this paper is to outline viable options for the future of CPC. This paper will serve as the basis for an informed public dialogue led by a Parliamentary Committee.
The task force, supported by a dedicated Secretariat within Public Services and Procurement Canada, will collect information and prepare a discussion paper that presents viable options, costs and associated implications for the delivery of quality, affordable and sustainable Canada Post services.
The work of the task force will be informed and guided by an examination of Canada Post's financial and business position, views of Canadians and key stakeholders, as well as previous studies.
2. Scope and purpose of the discussion paper
The task force will provide the Minister with a discussion paper to inform Canadians, parliamentarians and the Government on:
Canada Post's financial situation today and its financial projections into the future based on an objective third-party assessment
the views of Canadians and stakeholders regarding how Canada Post serves them today and how they wish to be served into the future
viable options and the associated implications for ensuring that Canada Post provides quality service to Canadians at a reasonable price and in a sustainable fashion
This discussion paper will be made public by the Minister and form the basis of an informed public dialogue led by a Parliamentary Committee, which is targeted for fall 2016.
3. How the task force will carry out its work
Stakeholder engagement: The task force will take into consideration the perspectives of key stakeholders in its work. This includes the views of Canadians, major mail system users, Canada Post, its bargaining agents and all other relevant stakeholders. To this end, it will conduct public opinion research on how CPC currently provides its full range of services and how these services should be provided in the future, including views on door-to-door delivery.
Financial assessment: The task force will assess and validate CPC's current financial situation, as well as its future financial projections.
Comparative analysis: The task force will assess, within a Canadian context, solutions found by comparable organizations, including, but not limited to, other national post systems, that address similar challenges to those faced by CPC.
In carrying out this review, the task force will be guided by the following principles:
Evidence-based: The task force's work will be guided by the best evidence regarding what works, both here in Canada and in lessons drawn from the experiences of other national postal systems
Representativeness: Beyond having the expertise to understand Canada Post's financials, the task force will bring both urban and rural perspectives to its work
Avoiding duplication of effort: The task force will not duplicate past reviews but will be informed by them
Fiscal responsibility: The task force's options will not imply the introduction of operating subsidies to Canada Post, it has a mandate to be self-sustaining and this does not change through this review
The Minister, supported by the task force and secretariat, is fully committed to an open and transparent review process. The primary goal of the task force's work is to conduct an in-depth review of Canada Post and provide the Minister with viable options for postal services. These options will inform a national discussion on the future of Canada Post, led by a Parliamentary Committee. The Minister will make public the task force's work, as well as the analysis of viable options where possible.
4. Other requirements
In consultation with other task force members, the chair will issue any contracts that may be required to complete the work (e.g. financial analysis, writer). The chair is also expected to ensure that the task force conducts the timely execution of all required activities for the completion of a discussion paper by September 2016, including providing regular progress updates to the Minister.
The task force may be asked to participate (e.g. as witnesses) during the Parliamentary Committee consultation phase.
5. Canada Post Corporation Review Secretariat
The Secretariat will support the task force by providing policy and legislative guidance, contextual information on CPC, including foundational work (e.g. previous reviews, backgrounder on postal services and international comparators), as well as logistics and administrative support.

[an error occurred while processing this directive]