Setting the standards
June 25, 2014
Our country's flag, affectionately known as the Maple Leaf, is recognized the world over as a symbol of Canada and Canadians, representing this great country and its people, principles and pride.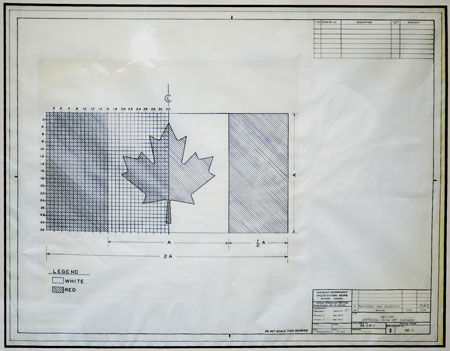 The original specifications for the Canadian flag.
But did you know that the Canadian flags that fly on nearly every federal government building must conform to several stringent standards formulated by our Canadian General Standards Board (CGSB)?
The CGSB, currently celebrating its 80th anniversary, seeks to ensure that every national flag flown proudly by the Government of Canada stands up to the test.
While the story of our flag's birth is interesting, the story of its standardization is equally captivating. Within weeks of the flag's debut in 1964, the colours in flags were fading, the red parts were "bleeding" into the white, and then some turned from red to pink to orange. Something had to be done—standards were needed!
Over the next few months, standards were developed and finally published on June 1, 1966, as Standards for the National Flag of Canada, 98-GP-1.
Interesting flag facts:
The original drawing of the flag, with its proportions mapped out, is framed and in the offices of the CGSB.
There are specific standards for the fabric, stitching and grommets.
There are also standards for the colours in the flag… even the white!
The flag standards also specify how flags must be labelled in their packaging.
Flags are tested in a wind tunnel at the Uplands airport facility in Ottawa, Ontario.
There are three sets of standards for flags: indoor, outdoor and one-event-only (like those distributed on Canada Day).
On this Canada Day, have a look at those magnificent flags flown by the Government of Canada and know that they are all up to standard… our Canadian standard!
Date modified: